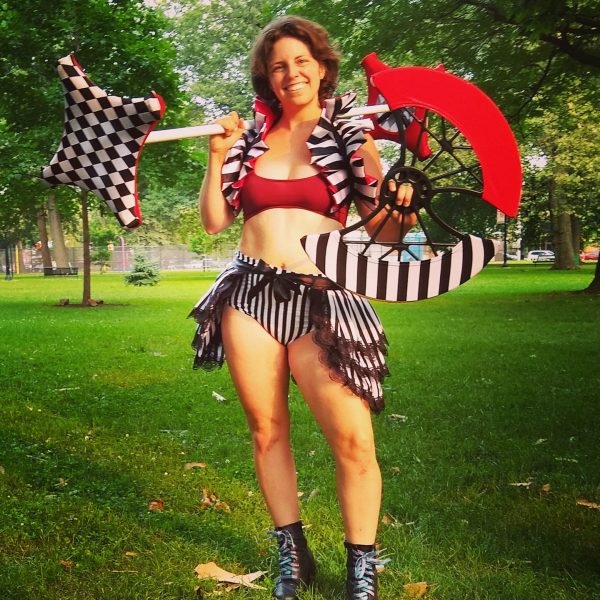 Circus
Dance
Fire Spinning
Flow/Improvisational
Object Manipulation
Soloist
Variety Show
Amanda Nyx of Fiercely Serene Studios is a flow-style dancer and fire performer, using multiple dance props to create beautiful color plays and magical visuals that bring music to life. Flow dance (sometimes called object manipulation) draws from a wide variety of backgrounds including belly dance, circus sideshows, magic acts, and more; Amanda is constantly learning new techniques to enhance her eclectic shows.
Amanda started with just one prop: silk fan veils. After becoming entranced with the way the delicate and vibrant fabrics accented a belly dancer's performance, Amanda knew she it was time to revive her past experience as a dance instructor – with a new twist. Her love of prop performance grew steadily, adding one prop at a time, adapting and developing new material to match the new toys, until her repertoire included more than a dozen unique dance props, and a variety of flow styles to match. Her performances, both in-person and virtual, utilize the full spectrum of options and are ever-evolving, even branching into LED performance and fire spinning!
Shortly after starting her career as a flow performer, Amanda saw the opportunity to use her dance and performance skills not only as a creative avenue for herself, but also as a vehicle for helping promote the Cleveland music scene. Fiercely Serene dance performances generally use a local-only soundtrack, and Amanda frequently works directly with musical artists to promote new songs and album releases through her visual interpretations.
Whether performing for private events, large and small scale festivals, or nationally touring conventions, Fiercely Serene performances are always unique and delightful!