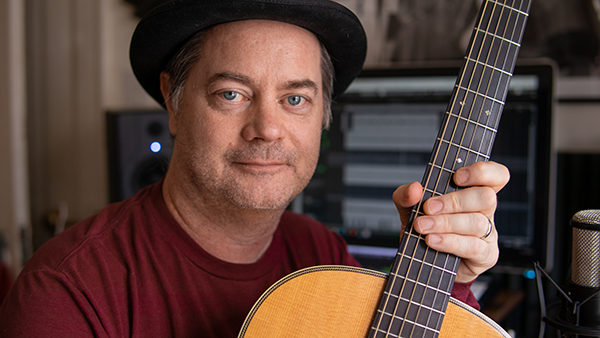 Folk
Singer-Songwriter
Soloist
Charlie Mosbrook is an award-winning songwriter, multi-instrumentalist, performer, and advocate for American folk music. Beginning his career in 1988 as a street musician and hosting open mics throughout Northeast Ohio, his musical journey has been one of service as an advocate for the folk music community. As the president to FARM (Folk Alliance Region Midwest) and Folknet of Northeast Ohio, artist teacher for Roots of American Music, and content creator for his YouTube channel Charlie's Open Mic, he continues to find new ways to celebrate the traditions of American folk music forward.
In 2020 Charlie's 2014 release "Something to Believe" was awarded 2nd place in the Just Plain Folk's Music Awards for 2010-2020. In 2018 Charlie's song "Remember Who We Are" earned him 2nd place in the Woody Guthrie Folk Festival Songwriting contest. The honor included an invitation to perform on the mainstage during the festival. The recognition highlighted a long history of helping to continue the legacy of Guthrie's music including a performance at the Rock and Roll Hall of Fame and Museum during its weeklong conference in 1996 titled Hard Travelin': The Life and Legacy of Woody Guthrie. His performance received a credit in Robert Santelli's book by the same title. Charlie has led Woody Guthrie workshops and performed his songs for schools, festivals, and libraries across the country. The Library of Congress American Folk Life Center has recorded Charlie performing Guthrie's song "I Ain't Got No Home". In 2011 He was listed as Cleveland's Best Singer-Songwriter in a Scene Magazine readers poll.
Suffering an incomplete spinal cord injury in 2010, Charlie now spends much of his time using a wheelchair and cane for mobility. A two-time Ironman triathlete and 12-time marathon finisher, he drew on his experience and persistance in endurance sports to continue moving forward as a performer, touring annually and independently by train, bus, or air. Charlie serves the City Council of Cleveland Heights on the Transportation and Sustainability Advisory Committee and the Folk Alliance International Cultural Equity Council advocating for people with disabilities.