ListenCLE is a program designed to put more local music into the ears of everyday Clevelanders. As part of our mission, we have been working with local orgs and events such as the NFL Draft, Ingenuity Cleveland, the Rock and Roll Hall of Fame, and the Cleveland Public Library to coordinate street performers and buskers during highlight events downtown. Our goal is to show off the incredibly diverse and high-level talent of musicians, dancers, and more that can be found in Cleveland!
Busking relies on knowledge of local laws, regulations, and guidelines, along with awareness of personal and equipment safety, and the goodwill of surrounding businesses and residents. Rather than simply sending performers out to manage all of this themselves, ListenCLE is forming bonds with downtown authorities and organizations like Destination Cleveland to ensure that this information is clear, accessible, and comes from a verified/knowledgeable source. We are working closely with city programming to educate performers and provide a resource for safe, legal street performances.
If you have an upcoming event that would provide opportunities for busking and street performers, please let us know, we would love to help you coordinate performers with a safe, informed, and professional approach. Please send any requests to: busking@listencle.com
Check out local music at Tower City Center's new indoor park opening on Saturday, July 16!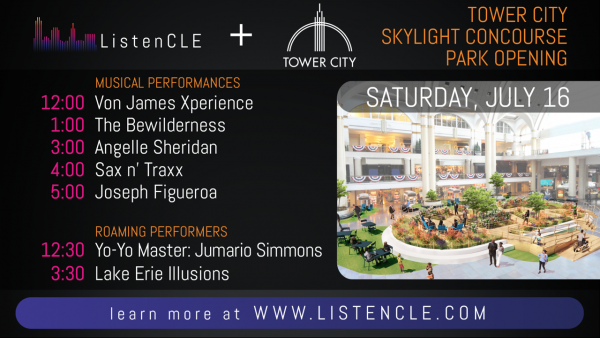 Join us at the Rock and Roll Hall of Fame on Sundays this summer!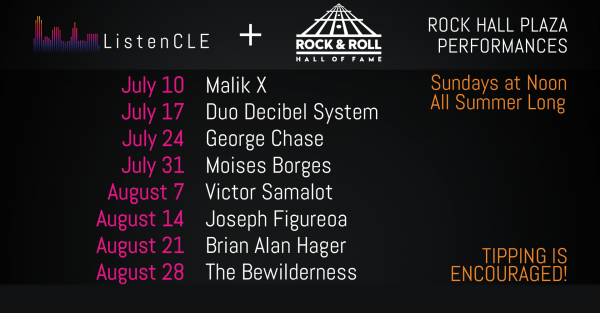 Busking 101
COMING SOON!
Busking in Cleveland
City of Cleveland Code of Ordinances: Chapter 675A – Street Performers
Clarifications on Street Performance Ordinances and Code Conflicts – COMING SOON!
Map of Suggested Cleveland Busking Pitches – COMING SOON!
Tips and Tricks for Better Busking
COMING SOON!